Camel Ski School Using Data To Make Informed Business Decisions
Charlie Toogood couldn't ask for a better "office". The watersports instructor reports for work each day on the picturesque Camel estuary, a tidal inlet along England's massive coastline that provides ideal conditions for water skiing, wakeboarding, and other water-based activities.
"It has shelter from most wind directions, which means we almost always find flat water for skiing," Charlie said. "I very often have to pinch myself when I'm driving the boat as I get to see some amazing views."
Charlie and his brother Simon took over Camel Ski School – founded in 1977 – in Rock, a coastal fishing village in Cornwall, England, in 2001.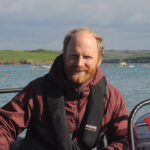 Charlie started working there while he was studying sport and leisure management at university.
"I got into it as a summer job and really enjoyed it. I had always water-skied as a child and if you go to Cornwall then you either ski, surf, sail or do all three," he said.
When Charlie took over, he started with four small boats and minimal equipment.
Today, Charlie oversees 15 staff, six boats, and a wide range of equipment, including kayaks, water skis, wakeboards, paddleboards, and inflatables.
With that growth and scale, a paper journal for tracking and managing guests had long grown inefficient for the team. As well, the pile of paper waivers that were filed away was full of valuable data they weren't taking advantage of.
Charlie sought to find a way to automate and manage their customer data with a digital tool that would be easy for everyone to use on a daily basis – and give him more real-time access to customer data to start managing the business.
Wherewolf ticked all the boxes
After looking for a solution that ticked all the boxes, Charlie implemented Wherewolf in early 2017.
He said he knew the old paper-based system was "very poor", particularly for the waiver forms he needed to collect for the company's insurance provider.
"I realized there was something flexible about Wherewolf that would work well for us."
Now when customers arrive at Camel Ski School they answer a few quick marketing questions and sign a digital waiver on a custom branded iPad app that gives the customer a professional start to the experience.
"A big plus is that I can ask questions and collect the data that I require and I can then act on that information quickly," said Charlie. The Wherewolf design makes it quick and easy to ask more questions than any paper waiver can offer – and because it's so easy to use, the guest can complete a digital waiver plus answer additional in the same amount of time, or less, than paper.
"For example, a simple question of age range or location gives me a clear idea of who our client is and I'm then able to target our social media marketing towards that demographic."
Charlie soon realized how much the old paper-based system was holding the business back.
"In the past, our biggest hurdle, being a seasonal business, was that the paper-based information we collected over the season couldn't be reviewed or acted upon until the following season," said Charlie. After the season was over, the company would manually review the waivers to identify trends and opportunities.
"With Wherewolf, I'm able to see a snapshot immediately, so I can implement effective marketing."
Driving business through innovation
By having a variety of customer data, the company has been able to focus on ways to boost income for longer in the year. Camel Ski School has a peak season of about eight weeks during the summer (July and August).
"When the summer kicks off our main business comes from London, Bristol, then the Midlands," Charlie says.
Charlie and his brother have put a lot of effort into offering new activities to keep business ticking over during the quieter months. "Our shoulder months are fairly quiet so we needed to build the business in those areas," he said.
This has led to the business offering school camps, a climate change workshop, banana boats and inflatable rides, boat charters, and even stag and hen parties.
In 2017 they opened a floating cafe that serves food and drinks on the water.
It's all part of a business strategy to create new income streams and make the shoulder seasons more manageable.
Having Wherewolf collect data and manage each guest and the activities they participate in builds a database that Charlie can start to evaluate for trends over longer periods of time. Ultimately, by collecting data today on each activity, Charlie will be able to forecast staffing, advertising focus, etc. to grow the bottom line of the business.
Safety First
And as more and more customers participate in Camel Ski SChool activities, the higher the chance an accident can occur. As such, safety is always an important topic between the staff and guests.
Replacing their paper waivers with Wherewolf digital waivers has allowed them to manage their diverse offerings with ease, particularly when it comes to making sure that their visitors fully understand the risk and responsibilities of their water adventure.
Every guest not only reads and reviews the waiver but also checks a box that they understand the specific risks of the watersports activity they are about to participate in.
Charlie said while he's not yet likely using Wherewolf to its full potential, and the software is already yielding positive results. "We look forward to passing the iPad around and getting more data so we know what to offer our [guests] in our ever-evolving on-water activities and off-water products."
You can learn more about Camel Ski School on their web site.
---
This article was written by Jonathan Carson, an award-winning multimedia journalist and freelance writer based in New Zealand. Jonathan is passionate about technology, tourism, and travel.