Glacier Raft Company Gets Guests on The Water Faster With Wherewolf
The craggy mountains, glacier-fed rivers, and hidden lakes of Golden, British Columbia deserve undivided attention. As guests arrive to Glacier Raft Company to kayak the Kicking Horse River, the excitement builds, and everyone wants to get on the water.
Carmen Narancsik, co-owner of Glacier Raft Company, is passionate about the natural beauty of the land she now calls home, and wants to make sure customers can spend every moment possible in the natural wonders of the river valley. But first, they must check-in, learn safety procedures, and get geared up.
After integrating Wherewolf's arrival app in 2017, Carmen and her team have been able to ditch "slow and tedious" paper forms and clipboards for iPads; getting their customers out of the office and into their rafting adventure in less time. It's one more way the Glacier Raft Company team is using technology to get guests on the water faster while freeing up staff to focus on the experience, not administrative tasks.
For the love of it
Carmen knows all about just how addictive Golden's outdoor attractions can be. When she first arrived in Golden, British Columbia, she planned to stay for one ski season on the region's world-famous slopes.
That was 2009.
In 2010, she met raft guide Ryan Johannesen through mutual friends, shortly after he had bought Glacier Raft Company. The relationship blossomed and the couple have been running the adventure tourism company in southern Canada ever since.
Glacier Raft Company offers gentle, half-day packages for beginners and "pure white water" rides for adrenaline junkies, as well as multi-day trips on the Kicking Horse River.
Carmen and Ryan lead a team of 15, including managers, guides, office staff, and drivers. Business has been growing steadily, largely thanks to word-of-mouth and online reviews. The thriving business is the top-ranked activity in Golden on TripAdvisor.
Cutting down on admin
As the business has grown, so too has the administrative burdens for Carmen and her office staff. The team was collecting paper registrations and waivers, then trying to manually collate the information into some usable form.
"We had a lot of manual entry every day. The chance for error was higher, being unable to read people's handwriting was a problem, it was boring and no one looked forward to doing it."
With cost of paperwork adding up, Carmen sought a solution to automate customer data entry, collect more customer data than they were getting from their booking system and forms while eliminating paper.
Carmen said the company made the move to Wherewolf "because we saw its value", particularly when it came to cutting down on administration time.
"We're all about improving our efficiency and I was confident Wherewolf would contribute to that," she said. "It was worth it for the fact we'd no longer have to manually add emails to our newsletter, or input the data we collect on our guests. We have been able to cut out at least one hour of admin time from our daily routine".
"We're also stoked on going paperless", Carmen adds. The eco-friendly message it sends to customers is important to their image in the heart of the wilderness they operate in.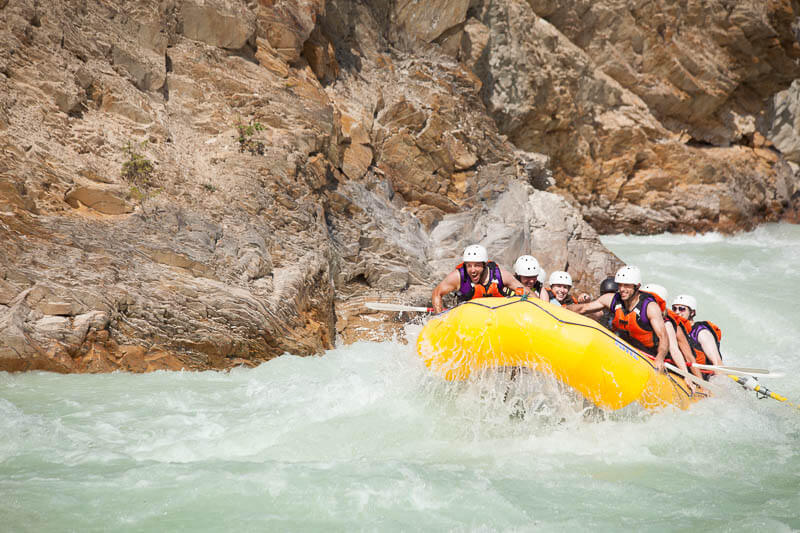 Improving customer experience
Carmen says the morning check-in and waiver-signing process for guests has "improved dramatically" with Wherewolf. Customers can get through the registration process quicker, as staff are able to point the guests to the iPad, then move on to other tasks to get guests processed and ready to head out for their adventure.
"It's very intuitive and easy for our guests, so it's quicker, there are less mistakes and people seem to enjoy it," she said.
Wherewolf's seamless integrations with Mailchimp and TripAdvisor have helped Glacier Raft to engage with their guests beyond their rafting trip through follow up emails and newsletters and review requests.
The company also uses Wherewolf to gather valuable information on the demographics of its customers, including age, gender and geographic location, which is instantly stored in a customer database. They then use the analytics to create more targeted marketing campaigns.
Carmen is happy that the time saved from manual data gathering and administration is invested directly into providing a better service and experience for guests.
"We focus on always providing the best experience we possibly can," she said. "I love seeing how happy people are when they come back at the end of the day. People love the river, they love our guides, and seeing how stoked they are about their experience is really rewarding."
You can learn more about Glacier Raft Company on their website.
This article was written by Jonathan Carson, an award-winning multimedia journalist and freelance writer based in New Zealand. Jonathan is passionate about technology, tourism, and travel.